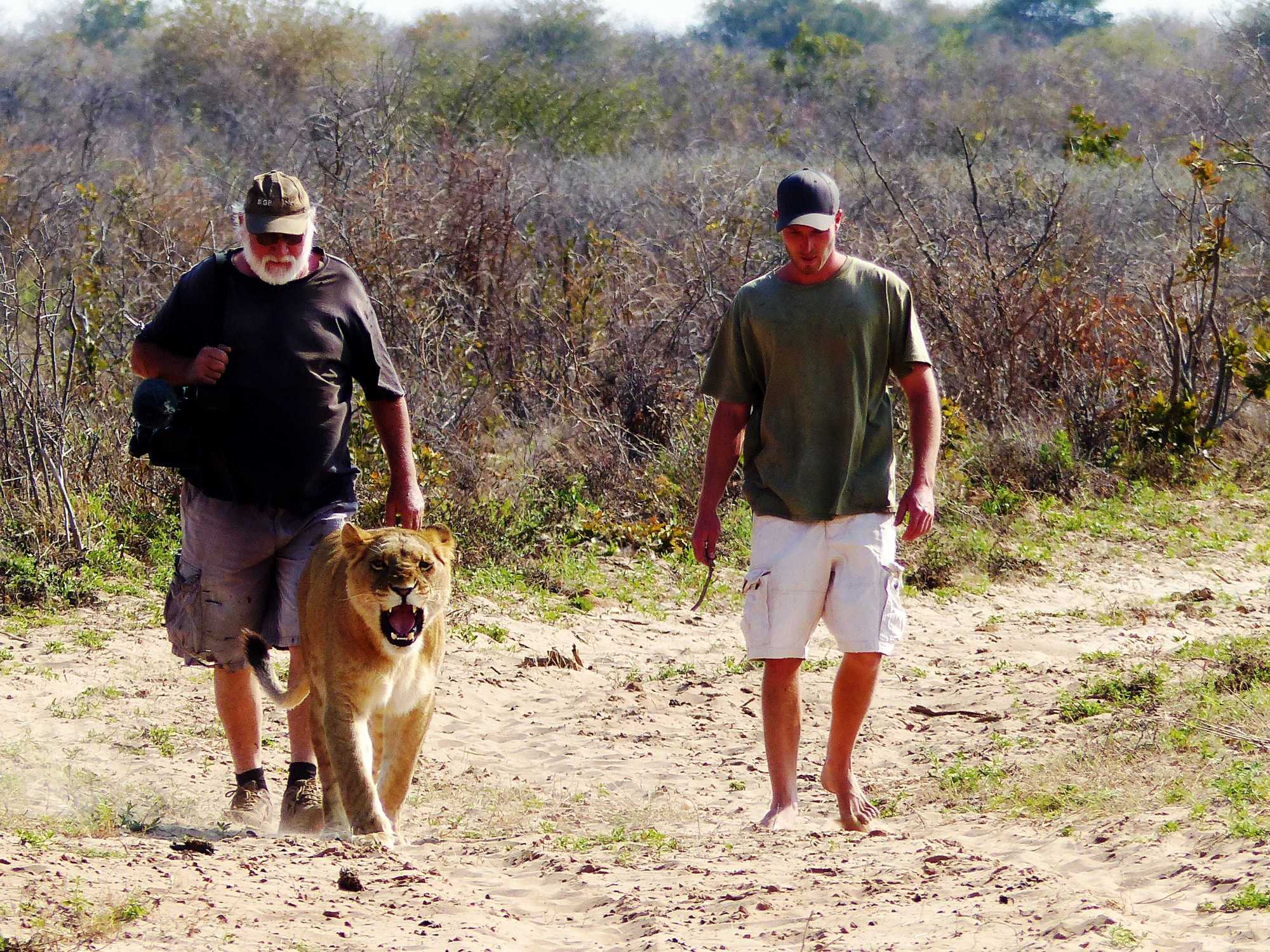 From a filming perspective.
Humans have always been fascinated by lions. In our minds they are brave and free and represent a nobility of spirit we crave.
In the 1960's George and Joy Adamson's friendship with Elsa the lioness became a Global phenomenon, and more recently the story of the two young men who bought a lion cub called Christian in Harrods, raised it and then returned it to the wild , captured the imagination of television audiences world-wide. Both cases supported the idea that lions are individuals capable of forming close relationships with humans. 
When we became aware of Val and Sirga's story we knew it was a once in a lifetime opportunity, because it took the trust between lion and man to a completely different level. Not only had an amazing bond developed between Val Gruener and the cub he had rescued and raised, but this man and this lioness were walking and learning to hunt together alone and unarmed in a wild and remote part of the Kalahari Desert of Botswana.
The irony is that this friendship exists at a time when conflict between farmers and large predators is a major stumbling block to the survival of wild lions in Africa.
From a filming perspective the challenge was to show the deep friendship between man and lion and juxtapose that with the brutal human/predator conflict in a way that would create awareness yet foster understanding.
Before I could think of anything else I had to be able to film the friendship, and that meant being accepted by Sirga.
I have filmed many wild lions in Africa over many years. I was fortunate enough to live with, follow and record the development of one specific lion pride in The Kruger National Park over eight years. I watched that pride grow from a small random group of two young males and three females, into a formidable super-pride of twenty-eight, an efficient killing machine capable of taking down large prey like buffalo on a regular basis. The pride recognized me as an individual, left their cubs with me when they went out on the hunt, and even tolerated me when I was outside the vehicle, but I could never join the inner circle, and although I slept when they slept, followed when they walked or hunted and disappeared into the bush with them at the first sound of a car approaching, I never tried to join the pride on foot and I always did my filming from the vehicle.
Now I suddenly found myself with a unique opportunity; to leave my trusted four-wheel drive vehicle behind and to go hunting on foot with a man and a lioness, albeit a hand-reared lioness, in the Kalahari Desert. For any seasoned cameraman this is a no-brainer.
As producer and Director of Photography this project presented unique challenges. There would be no set-ups and no re-takes, because Sirga is no circus lion to be directed and cajoled with rewards. She would go where she wanted when she wanted,  and Val and I would follow.
How could I film the bond between these two friends and their unique interaction with nature without disturbing the balance or interfering with actions which would constitute major learning curves in Sirga's life?
Val and Sirga had formed a small hybrid pride based on trust. I didn't want to become part of it. I didn't want to influence their movements or their behavior. Would it be safe to join them? Would Sirga accept me as the outside eye, watching, recording, but never interacting with them, or would she see me as a threat?
There were major technical hurdles to overcome too. Filming from a vehicle or a cage was out of the question. Apart from the fact that vehicle tracks would destroy vegetation and be unsightly, Val wanted to limit Sirga's interaction with vehicles to the barest minimum. The last thing he wanted was for a vehicle to become part of any hunt or chase. For that reason there would be no back-up vehicle either.
Val and Sirga were walking and hunting freely over large parts of a ten thousand hectare territory. It was a matter of follow and film or I stay at home.
The only way to record every intimate detail would be to join Val and Sirga on foot and to record all the action hand-held. A long-lens camera on a tripod would give me more control, but would weigh more than 20kg. It would be impossible for me to carry that around while filming on the move for four to six hours in the 40+Deg C heat of the Kalahari. Filming from a tripod would also take away from the feeling of exploration and the immediacy of the action, the hunt and the chase.
In the end I opted for a smaller, lighter camera and a wide-angle lens to give me mobility and allow me to get in close to the action without too much camera shake.
I took the plunge. The first days were nerve-wracking. Sirga took her cues from Val's tone and tolerated my presence, because he did, but she never let me out of her sight. She remained on constant alert where I was concerned and was super-aware of the 'eye' of the lens , which she tried to capture, bite and swat whenever she thought I was getting too close. Any attempt to go ahead of them to film them walking towards me broke her concentration and stopped any possibility of filming a stalk or a chase.
I had to take things easy. This was not a race.
We thought fitting Val with a radio microphone to pick up his words and breathing throughout was a brilliant idea. Sirga immediately noticed the microphone wire protruding from his pants and tried to pull it out, but listened when Val told her to leave it alone. Things went well, until the batteries in the receiver at Val's waist died and I walked up to him to replace them with new ones. The moment I touched him, Sirga growled and came for me. Val shouted and she backed off but it was touch and go.
The message was very direct and crystal clear: Val belongs to me. I can hug him and jump on top of him or ambush him all I want. You touch him and you're dead. That, was the end of the radio mike. It was never used again.
After that I watched for the small signs, learned the unspoken lessons and stuck to the rules, and Sirga slowly relaxed and began to accept my presence.
It took three hard months of patience and perseverance, during which I was jumped upon, tripped and run over by her, but the break-through finally came. One day Sirga just suddenly accepted my presence. I became part of the furniture and I could finally begin to film them walking past me and around me. I could even walk ahead of them without Sirga stalking me or jumping on my back. Once that barrier was broken I could at last start recording their relationship and their adventures from a close-up, low-angle perspective without affecting Sirga's behaviour.
For two and a half years I was part of yet separate from a small hybrid pride that walked and hunted together and explored a hunting ground in the Kalahari Desert from a lion's perspective. Sirga no longer avoided me. Instead she treated me like I've seen lionesses treat grumpy older pride males. She would lie down next to me and sometimes brush against me when we were walking, but she did not hug or lick me like lionesses do with other pride females. I was definitely a male. Val's identity is still a bit of a mystery, but I have a suspicion that she sees him as her mother. Sorry Val!
Having exclusive access to record the unique friendship and bond between a man and a lion has been an amazing journey of discovery for me, not only as a cameraman, but also as a person. It has given me unprecedented insight into and appreciation of the mind and the heart of a lion and the connection that can happen when two very different species come together as equals.
My only regret is that despite being so close and being fully accepted, I had to refrain from touching or initiating interaction with Sirga. This was not my story. I could not allow myself to become a completely integrated part of the story or the pride. Instead, I was "No-No", the grumpy old male lion that went along but kept his distance. The amazing thing is that Sirga seemed to understand and accept the old male's need to be separate at times, just as a lioness would make allowances for an old male in a wild pride.
Despite my 'separateness' I never felt any aggression from Sirga. On the contrary, her generosity and inclusivity constantly astounded me. Once she accepted me she did so completely and unreservedly, and that included all my odd equipment and my strange behavior when filming. She often came and gave me an affectionate rub, lie down next to me and look back at me to see if I was following after resting in the shade. She would even sometimes look directly into the lens while extending a paw at me with an old bone or a feather in it, as if encouraging me to accept a gift or share the moment with her.
I fulfilled my dream in life. I've worked with wild lions all my life. Now I can also say that I touched, walked with and hunted with a lion, and I am one of the few who have been run over by a lion on several occasions and lived to tell the tale.
Thank you Sirga, thank you Val.