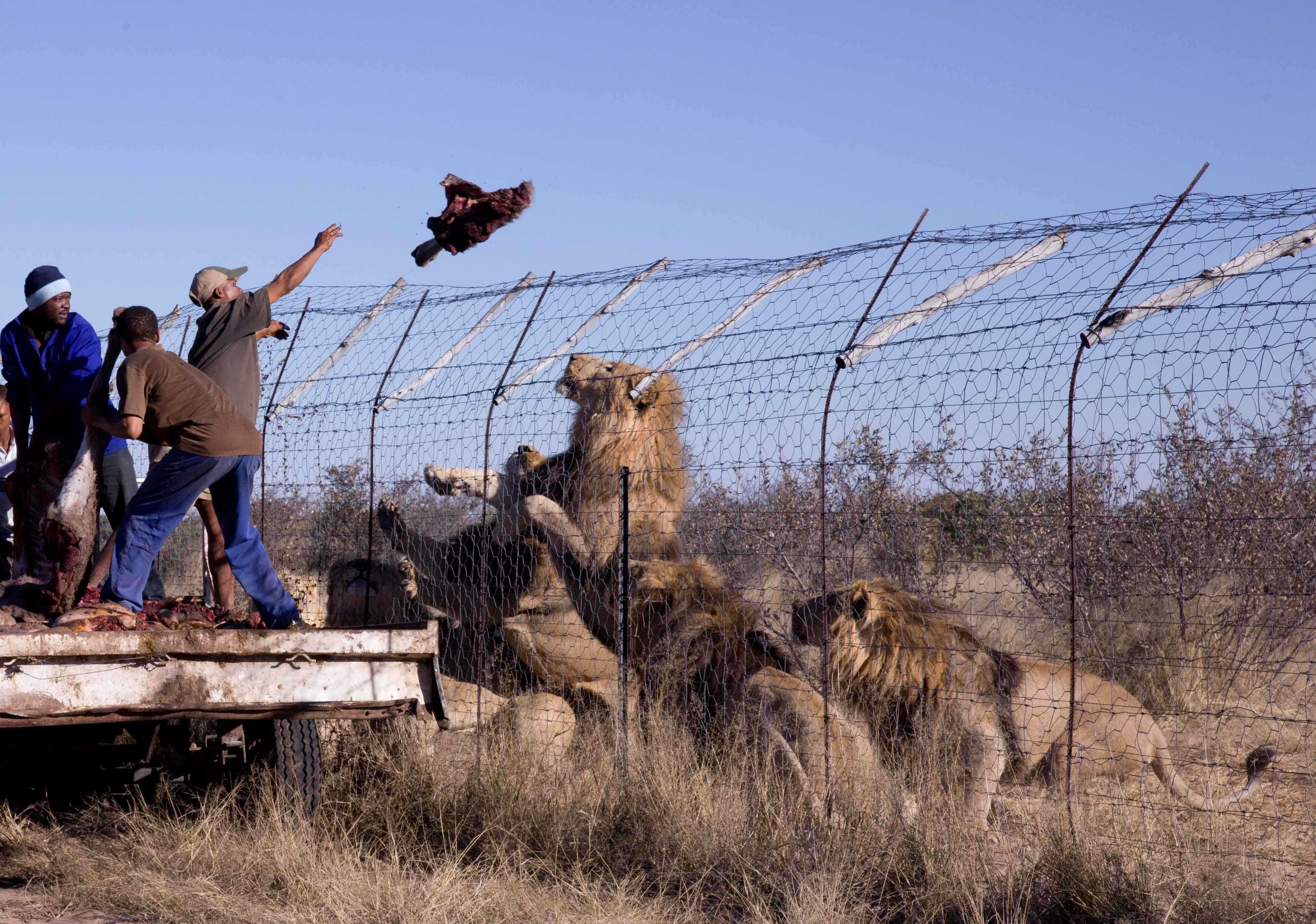 False Accusations:
We have recently been made aware of a defamatory and factually incorrect article, posted on the LIONAID website in 2013, which seems to have re-surfaced on the internet as a result of a documentary series we have been working on. Whereas  we normally ignore online smear campaigns, we feel compelled to comment in this case. 
We share the author's concerns about canned hunting and lion petting, and we certainly do not condone or encourage the hand-rearing of lion cubs. We do however think it important to get the facts right and to investigate and tackle any suspected case individually and with clear minds, instead of making false allegations for financial gain or simply to score general points.
The author of the article states as fact that lions are being bred on Grasslands farm in the Ghanzi District of Botswana for the canned hunting industry in South Africa.  We cannot vouch for Mr Christiaan De Graaff. We do not know him and have never filmed on his farm.
We can however vouch that the accusations leveled at Mr Willem De Graaff the owner of Grasslands, are completely unfounded.
Mr Willem De Graaff has never bred lions for export or for the canned hunting industry or petting trade on Grasslands, nor has any lion on Grasslands ever been sold or exported.
The tone of the article suggests that the author is a science graduate, yet he clearly did not think it necessary to verify the facts before taking a stand. He also offers no proof to verify his accusations. For a trained scientist to make such serious accusations without solid proof is inexcusable.
Tauana Films has been producing wildlife and conservation films in Africa for almost 40 years. As producers we have spent many years following and filming the behaviour of lions in the wild.  Our integrity as wildlife filmmakers is not and has never been in doubt.
As wildlife film makers we abhor the canned hunting industry, the breeding and sale of lions for the hunting or any other trade, and the breeding and use of lion cubs in the tourism petting trade.
We have filmed on Grasslands, a farm owned by Mr Willem De Graaff, on a number of occasions over a number of years. We first filmed on Grasslands in 2003. We recorded a research-driven wild dog translocation from Grasslands to the Central Kalahari Game Reserve five years ago, and we subsequently spent three years on Grasslands filming the SAVING SIRGA: Journey into the Heart of a Lion- series.
If there had been any lion-breeding or other questionable goings-on happening at Grasslands we would certainly have become aware of it during the time we were there. Had we noted any such suspicious activity, we would have stopped filming, raised our concerns with the Botswana Wildlife Department, and we would have left. 
As film team we were given complete freedom to travel and film anywhere across the ten thousand hectares of Grasslands on our own. We were not accompanied by anyone and our movements were not restricted or monitored in any way.
Not once did we see any evidence whatsoever of any lion breeding programme at Grasslands. Nor did we ever see any tell-tale signs of lions being loaded into trucks, or being traded in any way. If the numbers quoted in the article are anything to go by, it would have been impossible for us not to have noticed the movement, arrival or departure of lions during our time there.
We are aware that some lion cubs were born at Grasslands after the first rogue lions were captured by Mr Willie De Graaff. However, when we arrived at Grasslands to film the series all the captive lionesses had already had contraceptive implants inserted for some time. This was confirmed by Dr Rob Jackson the wildlife veterinarian in Maun. No cubs were born on Grasslands after Sirga and her siblings.
Mr Willem De Graaff confessed to us on camera that he had shot rogue lions on his cattle farms to protect his livestock. Under Botswana law both commercial and subsistence farmers are allowed to do so if their livestock is threatened. However, some years ago Mr De Graaff had a change of heart. He stopped shooting rogue lions. Instead, with the knowledge and permission of the Botswana Wildlife Department, he was allowed to capture rogue lions and look after them at his own cost until they can be either rehabilitated and returned to the wild in Botswana, or until they die of old age. The captive lions have indeed become tourist attractions at Grasslands, but they are alive and none have ever been sold or exported anywhere.
As far as we know the jury is still out on whether the shooting or poisoning of rogue lions, which still happens on farms across Botswana, is preferable to capturing them.
The Botswana Government has an outstanding conservation record. Commercial lion hunting is banned and the captive predators on Grasslands are monitored by the Wildlife Department.
As documentary film makers we welcome, encourage and embrace robust debate and discussion. The more people talk about lion conservation the more funding it will generate for further lion research. We can however not condone personal attacks and falsehoods from scientists who should know better than to draw conclusions without investigating the facts on the ground.
Our body of work as film makers reflects our lifelong mission to create awareness of the challenges facing lions and efforts to promote the conservation of lions in Africa.
In his article the author refers to George Adamson in derogatory terms and puts Val Gruener in the same category. Few young people today know of George Adamson's work, but Val Gruener should feel honoured to be mentioned in the same breath as Adamson. There are obvious parallels between the Val and Sirga story, and Adamson's work. Like Adamson Val also tries to help a young lioness to become the hunter she is meant to be by taking her out into the wild, but whereas Val is only concerned with one lioness, Adamson was a pioneer in his field who reintroduced 14 lions back into the wild in Kenya.
With the notable exception of Dr George Schaller, the renowned lion researcher, scientists and conservationists criticised and reviled Adamson in his lifetime. Yet today most acknowledge that the story of Elsa, a remarkable lioness, created more awareness and goodwill towards lions than any researcher or conservationist before or since.
Few nowadays would dare deny the outstanding work done by the Born Free Foundation, which is the Adamsons' and Elsa's legacy. For more about  George Adamson see  http://www.fatheroflions.org/  as well as http://wildfolio.blogspot.com/2010/10/george-adamson.html
It is becoming increasingly clear that scientists and conservationists as well as film makers will have to re-think their conservation awareness-strategies if they are to stay relevant in the twenty-first century, because what they have been doing until now has not worked.
Despite all efforts to make people aware of a great universal heritage, 90% of all wild lions have been lost over the past forty years. That means we have also lost habitat and prey species, because predators and their prey are connected. What happens to the one affects the other. 
Unfortunately, abhorrent as it is, canned lion hunting is not what is killing wild lions in Africa.
The brutal competition for territory and habitat between humans and wild animals is a major cause of much of the disappearance of wildlife in Africa, but is difficult to quantify, difficult to illustrate, and politically sensitive to address. Few television viewers are interested in watching a conservation film unless it features sensationalist or shockingly dramatic visuals of canned hunting.
Lions are disappearing because they threaten the families and the livelihoods of subsistence farmers who feel they have no option but to shoot or poison them. The truth is that right now many people in Africa would prefer all lions and in fact all large predators to be gone forever.
Researchers, conservationists and film makers are partly to blame. For many years most of them failed to listen to the very real problems faced by local populations when it comes to large predators. Most saw African wildlife as their exclusive domain; something to be protected from the indigenous peoples. Few took the trouble to create awareness of or foster a love of wilderness or conservation in the hearts of the people of Africa. Most failed to realise and acknowledge that the future of Africa's wildlife will ultimately depend on the goodwill of the people of Africa.
If one cattle farmer in Africa decides to stop killing lions and start encouraging others to stop too, researchers and conservationists should encourage him, not vilify him.
If we are to have any chance of encouraging and inspiring African people to save their wildlife, the very least we can expect of scientists and conservationists is that they get their facts straight before accusing African citizens of criminal or amoral acts.
We suggest that the author of the LION AID article channels all his learning and energy into educating and inspiring the youth of Africa instead of fabricating and perpetuating falsehoods.
Because educating and fostering a love of their wild heritage in the young people of Africa might just be our last chance to ensure that lions are still around twenty years from now.
Also read:  SAVNG SIRGA: Why make a series of films about a man and a hand-reared lioness?
Don't forget to check our facebook page